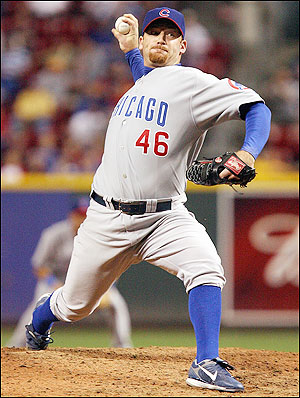 Ryan Dempster is owed $14 million in the final year of his contract. He's a 10 and 5 player so he could decline a trade. Many think he would because of his daughter, but Brett on Bleacher Nation says he may be willing to waive it for the right deal. Before I even get into any numbers, I want to talk a little about Albert Pujols.
Pujols just signed a monster contract with the Angels. They weren't the highest bidder, but only the Marlins bid more and it wasn't all that much more. The Angels were, however, the second highest bidder. Let's say that MLB allowed teams to trade a player right after they signed him. How much trade value would the awesome Albert Pujols have right now? The answer is none. How can a great player like Pujols have no trade value? Well, you see, Pujols just signed a contract for near maximum value. When players reach free agency that's what they do. Pujols determined that the Angels offer was the best one. No other team in baseball values a free agent higher than the team that signs him.
Instead of Pujols, let's make up a hypothetical player (Alvin) who signed a simple 1-year contract for $10 million. It was the best offer on the table. No other team valued Alvin more than the team that signed him. No other team wanted to pay Alvin the kind of money the one team did. You can see how Alvin would have no trade value since no other team valued him as highly as the signing team did. He can't have any trade value.
After part of a season the value may be slightly higher. After a few years in a multi-year contract a player may have out-performed expectations and now be worth more over the remaining years than we thought when he signed the contract. At that point he would have some surplus trade value, but immedialy after signing a contract, he has none. He has no trade value whatsoever. Since the signing team bid the highest they would have to send some money along to make a trade if MLB allowed that.
Ryan Dempster signed a 4-year, $52 million contract after the 2008 season. Aside from his ERA increasing significantly last season, he's been remarkably consistent. His FIP and xFIP has basically been constant over the last 4 seasons. Take a look at the stats Dempster most controls.
| | | | | | | | | | | |
| --- | --- | --- | --- | --- | --- | --- | --- | --- | --- | --- |
| Season | G | GS | IP | FIP | xFIP | BB% | K% | K-BB% | HR/FB | HR% |
| 2008 | 33 | 33 | 206.7 | 3.41 | 3.69 | 0.10 | 0.22 | 0.12 | 7.70% | 0.016 |
| 2009 | 31 | 31 | 200.0 | 3.87 | 3.76 | 0.08 | 0.21 | 0.13 | 11.00% | 0.026 |
| 2010 | 34 | 34 | 215.3 | 3.99 | 3.74 | 0.10 | 0.23 | 0.13 | 11.30% | 0.027 |
| 2011 | 34 | 34 | 202.3 | 3.91 | 3.70 | 0.10 | 0.22 | 0.12 | 11.20% | 0.026 |
| Average | 33 | 33 | 206.1 | 3.80 | 3.72 | 0.09 | 0.22 | 0.12 | 10.30% | 0.024 |
When looking at FIP the 2008 season stands out, but if you look over at the HR/FB rate you see why. xFIP adjusts HR/FB rate to league average considering pitchers have only a little control over their fly balls leaving the park. As a result, the xFIP are nearly identical the last 4 years. Fans will focus on the ugly ERA last season, but the new front office and most other front offices will instead pay attention to the defense independent pitching stats. CAIRO projects a 3.83 FIP, Bill James projects a 3.89 FIP and Oliver projects a 4.07 FIP. The average projection is a 3.93 FIP.
At Dempster's age I'm only comfortable projecting 175 innings so that's 2.7 WAR next season. His fWAR over the last 4 seasons has been 5.2, 3.7, 3.4 and 2.8. A 2.7 WAR projection is more than reasonable. At $5 million per win next year that makes Dempster worth $13.5 million. Actually, it's $13.98 million since the replacement level player would earn league minimum ($480,000). Dempster is projected to be worth exactly what he'll be paid next season.
I'm sure most of you realize at this point what that means. He has no surplus trade value. This isn't because he's not valuable. Pujols has no surplus trade value and he's one of the most valuable players in the game. It just means that Dempster is set to earn exactly what he's projected to be worth.
The Cubs could throw in some money in a trade or maybe they hope they can find that one team willing to overpay. Those teams are out there. It probably won't be from a team that had a similar viewpoint as the Cubs did a year ago. They valued ERA much more than they should have, but most front offices these days are more progressive than the Cubs were a year ago. A top prospect in an organization is usually worth around $15 million so it's entirely possible the Cubs could agree to pay Dempster's entire contract so they could get a top prospect in return.
I'm sure a lot of people have already said the Cubs wildly overpaid for Dempster after the 2008 season. I know they said it at the time. I didn't quite understand it. Many thought the Cubs paid Dempster to be as good as his 2008 season, but that was ridiculous at the time. If they paid Dempster to be that good he'd have signed for more than $100 million. He signed for half that. The Cubs knew his numbers were inflated in 2008 because of an exceptionally low HR/FB rate and that it wouldn't continue. Since people have been saying it and will undoubtedly continue to say it I wanted to check to see how much Dempster has been worth.
Fangraphs has him worth $42.3 million over the last 3 seasons. Add in the $14 million he's expected to be worth this year and he'll be worth just over $56 million over the 4 years while being paid $52 million. This doesn't even factor in inflation. At the time Dempster was signed you have to account for inflation. The value of the win is expected to increase each year, but it has not in recent years. The Cubs were paying a much higher average per win value in the contract than what has actually occurred. Despite that, they still have gotten equal value out of him.
It's not often you see a guy with the career Ryan Dempster had become as good as he did that late in his career. By the time he Tommy John Surgery during the 2003 season, he was already 26 years old. He always had a lot of potential, but he'd always been too wild to reach it. In his first year in 1998 he threw 54.2 innings and had a 5.86 FIP. He was only 21 though. He followed that up with a 5.3 FIP in 147 innings and in his first full season at the age of 23 he started to improve. He posted an FIP of 4.36 in 226.1 innings. The FIP was slightly better than average. In 2001 he threw 211.1 innings and had a 4.45 FIP. Not even 25 yet, he'd already thrown a lot of innings and by 2002 he was already in decline. He threw 209 more innings that year and had a 4.72 FIP. Prior to his injury in 2003 he'd thrown 115.2 innings and had an ugly 5.1 FIP.
The Cubs took a chance on him and it paid off as they moved him to the bullpen. He only had 1 really good season as a reliever, but was OK otherwise. The idea of him in the rotation entering 2008 seemed laughable to me, but Lou and Hendry obviously knew something I didn't. The turnaround he's had at that age has been impressive. To remain as consistent as he has after the early struggles, injury and average production in the bullpen is remarkable in my opinion. You just don't see that kind of turnaround very often and you should enjoy it when you do. Baseball is not a kind game to pitchers. That's especially true for young pitchers who build a lot of innings as Dempster did. Dempster is one of the few pitchers who reached their potential in the roundabout way we've seen.